The Join of Making One Big Change Every New Year
The beginning of the New Year is the time for a fresh start. Yeah, yeah, yeah, we've all heard that before. In fact, now more than ever I hear people saying they AREN'T going to make any resolutions because they never stick with them.
Last year, after following Coach.me for at least 2 or 3 years, I took the plunge and joined the
VIP Program
. And now I am super stoked because this month
they're focused on turning your New Year Resolution into ONE BIG CHANGE
. In other words, affecting one giant, life-changing goal. For me, my one big change is to lead a less stressful, overwhelmed life. What is yours?
So, if you think some guidance can help you actually ACHIEVE your big change, then check out this program. It takes place everyday, but you can literally participate when you have the time and not participate when you don't because all the exercises are self-contained modules. The program has already helped me and I expect over time it will help me even more!
If you do decide to give it a go, be sure to enter the code
BIGCHANGEVIP
to get $100 of freebies. (Dang... I didn't get all those freebies when I signed up!)
Sign up here
.
Disclosure: I am not associated with Coach.me in any way, nor do I benefit from your signing up. I just love this and want to share!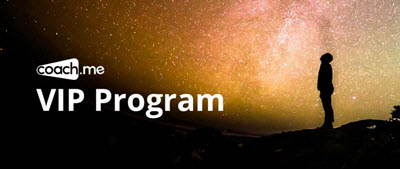 For extra credit: Here's an article by Tony (the CEO of Coach.me) that explains just what goes into making your BIG CHANGE happen.
Read it here ... good reading
!