Cool Makeup Brushes and Makeup Bags
My 30 year old daughter and I LOVE Disney. I've been through 3 pairs of Disney slip-on sneakers; she wears a Disney cardigan and carries a Disney Dooney Burke handbag. Twice we had annual passes, so we made once per month treks and spent from morning to night at Disneyland and California Adventure. Our favorite ride is Indian Jones, although we're really hard pressed to narrow it down to just one. Our favorite food is the lobster nachos. For Sarah, that's followed closely by corn dogs!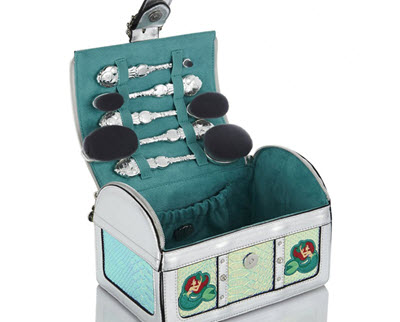 It's hard to explain to Disney "newbies" how going to the parks is a great stress reliever in our very busy lives. Total escapism. We spent hours and hours with only happy thoughts, lots of snacking, people watching, laughing, and a new discovery or two EVERY time we went. At one point, since we had been so frequently, it crossed our minds that the day would come when we couldn't find a new ride or attraction that he hadn't already been on or seen. Not the case. There was ALWAYS something new!

Now that we're not living in LA anymore, we can't wait until we get to go back!

But in the meantime … I love seeing all things Disney. And, so, when I saw this article in, of all places, Cosmopolitan, it quickly caught my eye. Spectrum Collections (read about the sisters that started the business) is launching an adorable line of makeup bags and brushes, featuring Ariel and Ursula. And who knew that even YOU can have your own treasure chest with Ariel's "dinglehoppers". "What is a dinglehopper?" you ask. In this case, they are elegantly designed oval makeup brushes, presented in their very own treasure chest! Another thing to love is the collection is vegan and cruelty free with 1% of the revenue going to PLASTIC BANK, a charity that works with local communities to clean up plastic in the oceans.

Now the BAD news … for now, the line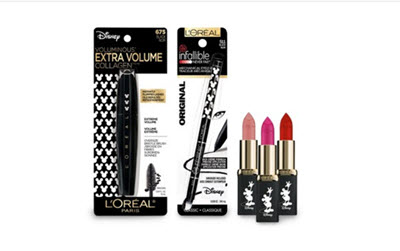 is ONLY sold in the UK. Fingers crossed that they decide to cross the ocean. (It's something that Ariel would do, right?) When they do, I'm snagging the makeup bags. Check out Spectrum's website.
But wait! There's also GOOD news for Disney fans …. we Americans may not be able to get the Spectrum Disney collection, but we CAN get L'Oreal Paris Disney makeup collection. At TARGET!!! The collection includes mascara, eye liner, lipstick and more!

To read more about both collections:
Spectrum Disney
L'Oreal Paris Disney